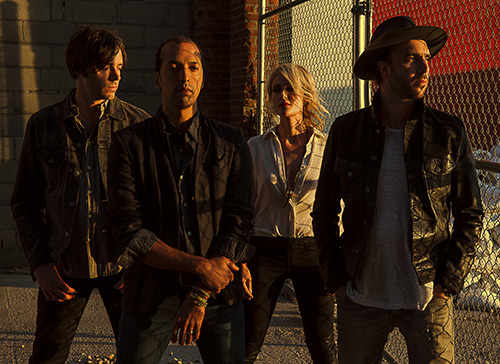 Metric pushes on in David-and-Goliath world
Read the article as it appeared in print.
After 17 years and six albums, synth rockers Metric still find themselves evolving as musicians, embracing being "wonderful weirdos" and making no apologies for success in the mainstream versus the indie genre where they originated.
The honesty in Metric's music, and in the candid interviews that frontwoman Emily Haines is known to give, is what keeps the momentum going after nearly two decades. The Canadian natives celebrated the September release of their album "Pagans in Vegas" last summer by opening for Imagine Dragons on an arena tour. In the months since that tour ended, Haines has reset her focus.
"I don't really look backwards, it's not my speed. For me, my eye is on the future — I just want to be able to pick up in the moment," she said.
The near future of Metric consists of months of headlining tours, in intimate venues around the United States and in arenas in Canada. The band plays at The Depot in Salt Lake City on Wednesday — electronic band Joywave opens. Haines talked to The Tribune about the band's longevity, the live experience and Metric's ultimate message.
The art of being different
The Imagine Dragons tour made it very clear to us that we are completely the wonderful weirdos that we want to be. The whole point of the band and the spirit of the music is the experience that we want to bring to people who have listened to us and have supported us and continue to support us. There is a place in the world for originality and individuality, and there is success to be found there. Something we can all agree on is that every person on Earth is miraculously completely different. Somehow, culturally and in our general perception of things, it seems that gets kind of lost. There seems to be a conformist consensus of what is supposed to be successful and what it's supposed to look like. The whole point of our music is that every single person has something extraordinary to offer. We've dedicated ourselves to create something that no one else can make.
On honest interviewing
I think there are all kinds of things about me that make all kinds of people uncomfortable and put a whole bunch of other people completely at ease. People are very interested in trying to protect how they are perceived. We can't afford it, so I haven't been able to do it. It's something I've seen as a strength in who we are. I've seen quotes that are completely wrong and I think it's been due to the fact that I have been totally candid and unguarded. But I have also seen stuff where it's genuinely interesting and hopefully useful to the reader, which is the point of music and art in general, to shed some light for people in their daily lives on what's happening and ideally make it a bit more meaningful.
Headlining tour
[The tour] is an ongoing development of the band and who we are and bringing that to people. It's an experience, our concert is where the whole thing is synthesized. All the years and all the different styles of music and all the experiences we have had, we really try to crystallize that into one ideally transcendent and memorable night for the audience. Playing live is what we do; it's the heart of the band. It feels like we are back on track and doing our own thing — headlining our own tour. The show is the life, like every person. There are traces of who you were and who you are becoming and who you are. It's our night, so we can ideally give the fans everything they need and everything they want and have people leaving really satisfied and fulfilled and open-hearted.
Philosophical pursuit
The ethos of the band and the message has always been the same thing. As we grow up along with our audience, it takes on more and more forms. The challenges become different challenges from when you're 25 to 10 years later ... How do you evolve and participate in the moment that is your life and is your time and be open and change without losing the essence of who you are as a person? How do you make your time on Earth? ... There are all kinds of ways that people pursue that and there are all kinds of ways that we can pursue that as artists. That's all there ever is for us to show is to make it public and allow people to participate in it with us and hopefully get some cathartic release along with us.